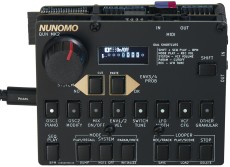 Qun mk2 is a powerful and unique pocket synthesizer with sequencer and looper.
The sound generation is based on two digital oscillators. These work with a self-developed engine, which can be operated as virtual-analog synthesis, 4-operators FM or a granular algorithm. The oscillators can be played monophonically or in two voices.
There is a multimode filter with low-pass, band-pass and high-pass that can be switched between 12 and 24 dB slopes. For modulation there is a MIDI controllable, synchronizable LFO and four envelopes. The synth also offers an effect with delay, chorus and flanger.

The integrated sequencer can create patterns with up to 64 steps, including transposition, note length, velocity and probability functions. Furthermore, there are arpeggiated steps, a random function, quantization and shuffle.

With the synchronizable looper you can record about 30 seconds in three tracks with five scenes each. You can record the internal sound engine or record external audio via the input. Scenes can be changed on the fly. There are cut/paste functions as well as overdub recording. The looper recordings as well as presets and samples (WAV) for granular synthesis are stored on an SD card.

*Qun mk2 comes with micro SD card.
---
---
---
€
269
Video